This shop has been compensated by Collective Bias, Inc. and its advertiser, Emergen-C®. All opinions are mine alone. #FallImmuneSupport #CollectiveBias
As the days get shorter and colder during Fall, I always find myself sluggish and not wanting to do anything at all. I get home from work and instantly just want to curl up with a cozy blanket. Anyone else feel the same way?
The days are already getting shorter, and we only have a little bit before Daylight Savings Time ends. Even though I want to get cozy when I get off work, I'm going to overcome the fall fatigue with these 5 ways to help me keep my energy up this season.
5 Ways to Keep Your Energy Up this Season
NO. 1 HYDRATE
This may seem like a given, but honestly during the fall and winter months, you crave those warming drinks. Holiday flavored coffee will soon be your drink of choice, which will dehydrate your body and leave you feeling sluggish. That's why keeping track of your water intake is so important. The seasons have changed, but that doesn't mean your water intake should, so don't neglect your water bottle.
Related: Benefits of Lemon Ginger Tea
NO. 2 KEEP YOUR WAKE UP TIME THE SAME
With the sun rising later in the morning, your body won't have the natural sun to wake you, and you'll be wanting to sleep longer. This can completely mess you body's natural rhythm, so it's important to keep the same a.m. wake up call. If you need some extra help, you can get a sunrise alarm clock that will simulate the morning sun. 🙂
NO. 3 DRINK VITAMIN DRINK MIXES
On top of staying hydrated, you can enhance energy naturally* with vitamin drink mixes. I love using Emergen-C® products to give me that extra mid-day support. There are over 20 different flavors and a variety of special formulas so that you can exactly what you need.
Hover over the image below to shop these Emergen-C® products!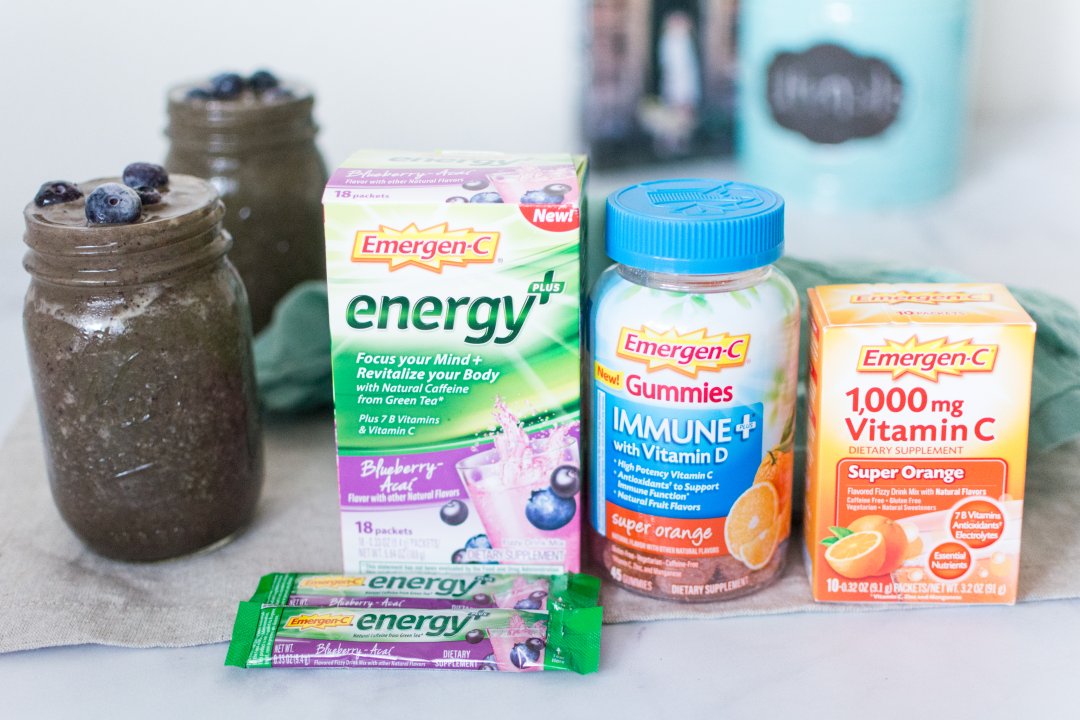 I'm loving the Emergen-C® Energy+ Blueberry Acai. Emergen-C® Energy+, available in bold-flavored Blueberry-Açai, powder-packed Lemon-Lime, and fruit-y Mango-Peach, is flavored with natural, real fruit flavors. It's also gluten-free.
Try this Emergen-C® Energy+ Blueberry-Açai energizing smoothie before your workout or afternoon stroll. It's energy customizable to support your needs.
1 packet Emergen-C® Energy+ Blueberry Acai

6 oz almond milk

1/4 cup blueberries

1/2 frozen banana

1/2 cup spinach

1 cup of ice
Blend everything together until completely smooth.
You can also try out Emergen-C® Super Orange! It's packed with Vitamin C plus other key antioxidants such as zinc and manganese to support your immune system along with B Vitamins to enhance energy naturally.* Emergen-C® dietary supplements are the delicious way to start your day.
If you're always on the go and prefer gummies try Emergen-C® Immune+® Gummies Orange. It's your favorite fizzy flavors, now in a yummy new form! Emergen-C Immune+ Gummies support your immune system with Vitamin C and Vitamin D, support your energy with B Vitamins,* and are made with natural fruit flavors. No water needed! Bursting with fruit-y deliciousness, chew your way through Emergen-C Immune+® Orange & Raspberry Gummies to support your immune system with Vitamin C and Vitamin D.*
Emergen-C® seriously has something for everyone, so head over to Walmart.com and check out all their flavors and products. You can also pick up these varieties at your local Walmart in the Pharmacy aisle.
NO. 4 GET YOUR SWEAT ON
Don't stop working out just because it's dark. For me, it will be dark when I wake up and dark when I get off of work, but that won't stop me from getting a workout in. Working out instantly lifts your sluggish mood and gives you energy. Hit the gym or create an in home space where you can dedicate at least 30 mins to a sweat sesh.
Related: Home Gym Essentials
NO. 5 SOAK UP SOME SUN DURING THE DAY
The sun is a ball of energy, so it's no surprise that getting out in the sun will give you energy. Head outside for some fresh air throughout your day. This can be a quick walk during lunch or shopping outdoors.
With these tips, you can ensure that the fall & winter blues won't suck the life out of you. Even the smallest changes or habits can have such a difference on energy levels. Write down how you're going to stay energized this winter and keep yourself accountable. 😉
*This statement has not been evaluated by the Food and Drug Administration. This product is not intended to diagnose, treat, cure or prevent any disease.